Just then you remember that special find, the one you delicately placed in your special finds tin, the special tin that you lined out with tissue to avoid objects placed inside it from being scratched and banged about, that lovely hammered coin. So you get small bucket out and your old soft tooth brush, the one your missus was about to throw out, you add a little bit of washing up liquid give it a stir and then start cleaning. After ten, fifteen minutes you've completed that job and its time to get your pile of detecting books and magazines from you hidey hole and steadily, gingerly start thumbing, sifting, and scouring through the pages looking for a picture that resembles your find.Sounds familiar doesn't it, we all do it, maybe not in the exact same order but we all like to id our detector finds, don't we.
Finds...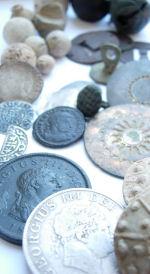 Our aim at detector finds is to is to share our knowledge and experience of metal detecing with you, to make your day out that little bit better, young or old, novice or expert.
We have also included a finds library, pictures of our finds, why not take a leisurley browse through it, you might be saying, "I've got one of them!"
Golden...